ABO Team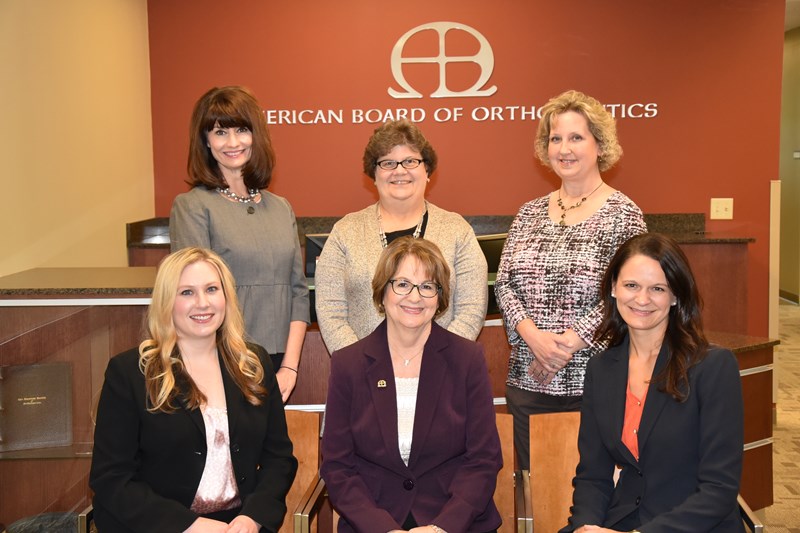 Carole Newport, MA
Executive Director
Carole@AmericanBoardOrtho.com

 

Carole graduated from Missouri State University with a Bachelor of Science degree in Business Management and completed her Master of Arts in Marketing at Webster University. Her professional background includes 9 years of experience with a hotel management company holding Director of Sales and General Manager positions.

Christine L. Eisenmayer

Executive Secretary 
Chris@AmericanBoardOrtho.com 

 

Christine began working for the ABO in 1997 as Registrar/Exam Coordinator and became the Executive Secretary in 1999. After college at Missouri State University, Christine spent 20 years working in Manager/Account Executive positions in the advertising field including 5 years of operating her own advertising business.

Michelle Valenti


Finance and Development Manager  
Michelle@AmericanBoardOrtho.com

 

Michelle grew up in Chicago before moving with her family to Missouri in High School.  After graduating from Missouri State University with her Bachelor of Science degree in Business Management, she relocated to the St. Louis area.  Prior to joining the ABO, Michelle spent 15 years in hotel management and 4 years as a corporate accountant at a large financial services firm.

Melissa Brydels

Marketing and Event Manager
Melissa@AmericanBoardOrtho.com

 

Melissa Brydels joined the ABO in 2009 in the Meeting Planner/Public Relations position. Prior to this, she reported to executives in iconic St. Louis companies, including Anheuser-Busch and BJC Healthcare. Melissa attended St. Louis Community College where she studied Business Administration.

Rhonda Legge

Exam Coordinator 
Rhonda@AmericanBoardOrtho.com

 

Rhonda has lived in the St. Louis area all her life. She has enjoyed working with the ABO since 2002 and has held the Written Examination Coordinator position since 2009. Rhonda works alongside the Written Examination Committee and is dedicated to producing the best examination possible. Before joining the ABO team, Rhonda worked for Mid-America Dairymen, Inc. in St. Louis, MO.

Pamela S. Walker

Credentialing Services / Bookkeeper 
Pam@AmericanBoardOrtho.com 

 

Currently residing in Waterloo, Illinois, Pam is originally from South St. Louis County. Her background includes 30 years of administrative work, primarily in the area of accounting.
                                                                                                                                                            

Jaime Pendill


Office Assistant
Jaime@AmericanBoardOrtho.com 

 

Jaime joined the ABO team in late 2017 after building her career in the publishing industry. Most recently she managed her own freelance development business, but spent many years at Elsevier and has worked on previous editions of many higher level dental specialty textbooks.  Although originally from the East coast, she considers St. Louis to be home. Jaime attended Missouri State University, earning a Bachelor of Arts degree in Creative Writing and Marketing. 

 
Scroll